Kim Kardashian and Kanye West have been married for over six years. It was the third marriage for Kim and the first for Kanye. Now the family has four kids. However, not all the fans know about the hard way they did and multiple unsuccessful attempts to become happy parents. Today we will talk about Kim Kardashian IVF journey and pregnancies and see how she managed to complete her big family.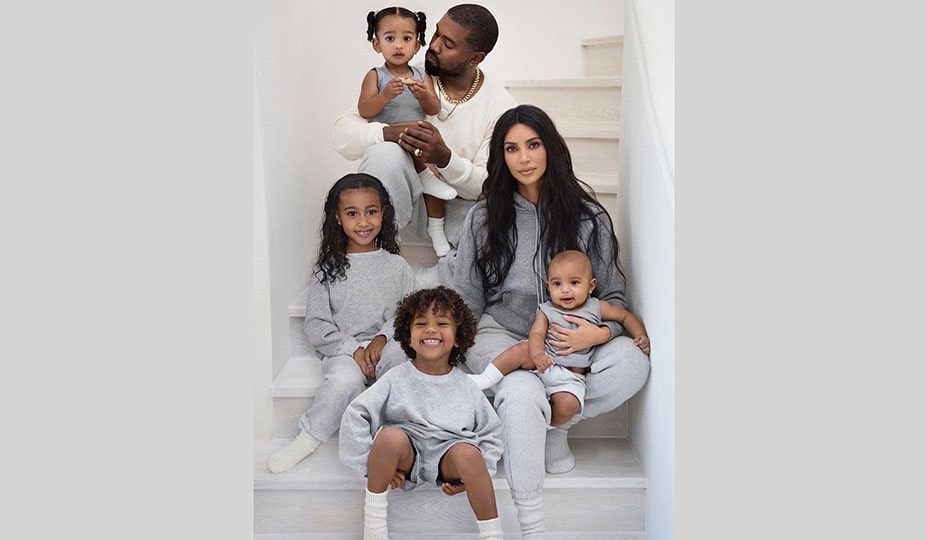 Kim Kardashian Children and Four Pregnancies
As you know, Kim and Kanye West have four children. Kim gave birth to two kids via natural pregnancy. Surrogate mothers carried the other two of their kids. Saint West was conceived using IVF, and after him, Kim still had two frozen embryos.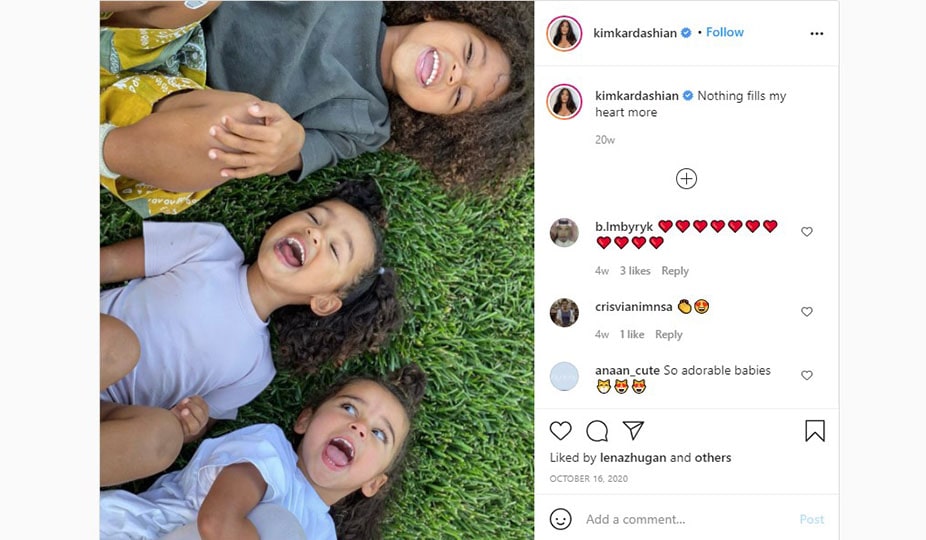 Kim underwent five surgeries in a year to help with her health problems after two pregnancies. After that, the doctors said they could not allow her to bear another child conceived by IVF. `They replied that they would not even try to put an embryo inside me; it would be illegal.`– Kim said. Therefore, IVF was performed on surrogate mothers. `But I would go through this one more time to have such wonderful children!` – Kim admitted.
Let's share an inspirational Kim Kardashian's family story. Instagram.
North West – Kim Kardashian First Natural Pregnancy
North West was born on June 15, 2013. She is an elder daughter of Kim Kardashian. You can check her Instagram for more images and posts.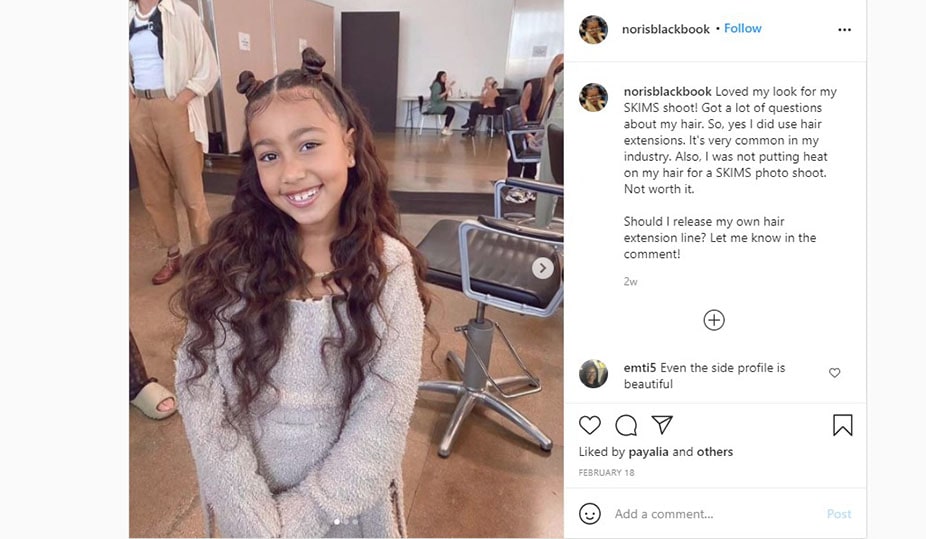 Kim Kardashian admitted that she began to have serious complications in the middle of pregnancy with her eldest daughter in 2013. Kim had preeclampsia. This rare condition causes high blood pressure, swelling, and severe kidney damage. Experts note that the disease is dangerous not only by the likelihood of death for both the mother and the baby but also by the fact that they cannot completely cure it. Kim described this pathology as a disease in which the mother's organs begin to fail. Preeclampsia is the cause of death in women in childbirth in 12 percent of cases. Because of this, North West was born six weeks ahead of schedule.
`The only way to get rid of this is to have a baby. At week 34, I had to induce childbirth artificially` – Kardashian-West recalled – `North weighed four pounds (1.8 kg ).` She added that her daughter was born almost six weeks ahead of schedule, but the problems did not end there because the placenta, usually following the baby, remained inside of her body and had to be surgically removed.
Usually, during natural birth, which occurs without complications, a woman can get rid of the placenta after secondary contractions. In Kim's case, this did not happen because the embryonic organ had grown into the uterus wall. Doctors needed to make curettage, which could potentially result in bleeding. If the organ remains inside the uterus, inflammation and sepsis can begin. According to the celebrity, `this is why women die during childbirth.`
Despite this sad experience, Kim wanted to have as many children as possible with Kanye, so when her health returned to normal, the star couple began to try getting pregnant with another child.
Saint West – Kim Kardashian IVF and Second Pregnancy
Saint West was born on December 5, 2015. He is the elder Kim`s son.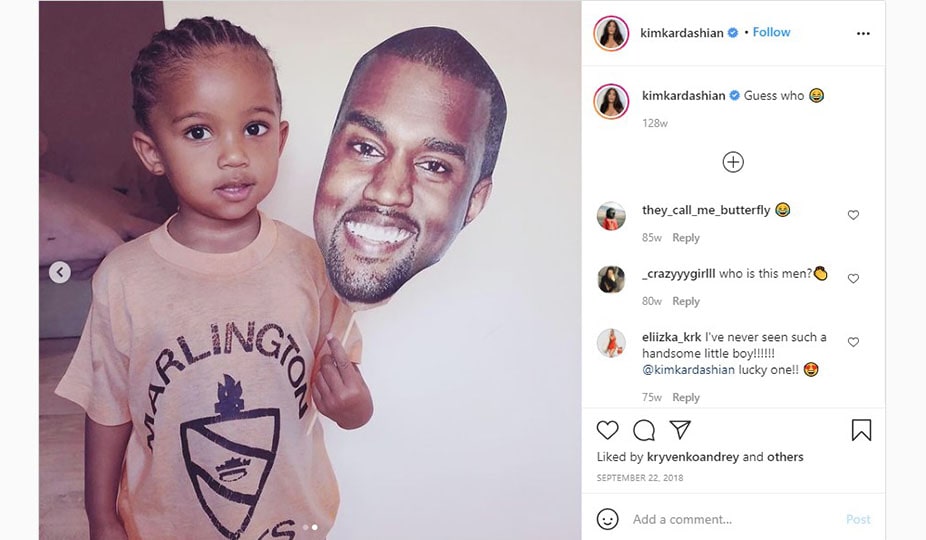 `After my daughter was born, I continued to freeze my eggs. With them, I was able to conceive my son Saint via IVF, and then I had two embryos. I had the same illness and the same terrible birth that during the first childbirth.`
After the second pregnancy, doctors could remove the star's uterus due to medical reasons. During my first pregnancy, I had to do a lot of small surgeries to fix issues with the placenta. I think that's why it was so difficult for me to get pregnant a second time. Every day at five in the morning, I went to my doctor to determine the ovulation. Doctors warned me that the situation could repeat, and if this time there is more placenta, the uterus will have to be removed. It's very scary.
Nevertheless, despite all the predictions, the TV star gave birth to her second child herself without a cesarean section and shared her impressions. `The doctors did not give me any painkillers, and let me tell you, it was very painful. The most painful birth. But everything ended well.`
After her eldest son's birth, Kim had to undergo five different internal organ operations within one year and a half. However, this time doctors warned Kim that they wouldn't be able to make IVF next time, and the only way to have more kids is through surrogacy.
Chicago West – Kim Kardashian Third Kid from Surrogate Mother
Chicago West was born on January 15, 2018. Mom calls her a `Chi-Chi princess.`
Kim Kardashian herself expressed a desire to have another child on the reality show `The Kardashian Family.` In May 2016, five months after Saint's birth, Kardashian posted a snapshot of a pregnancy test she took in an airplane toilet on Snapchat. She later explained her action: `I had a delay and started to panic. It seemed I could not wait 10 hours in obscurity on board the plane, so I did the test and decided to share the result with the fans.`
Kardashian's fear is explained by the fact that her two pregnancies were difficult; the doctors explained that it would not be safe to become pregnant again.
In 2016, Kim Kardashian began to think about surrogacy and even had a meeting with a woman who used a surrogate mother's services. At the same time, Kardashian spoke about the doubts associated with such a decision: `My main fear is whether I will be able to love this child as much as if I was pregnant with it myself?`
According to US Weekly, a young woman from San Diego became a surrogate mother for the Kardashian and West. She has already carried a child for another couple and starred in a video about surrogacy possibilities. At first, Kim could not get used to the idea that she was not carrying her third child. `I am very upset that I cannot do this on my own. I go to all doctor's appointments. Of course, I want to know every detail that happens to my child. But I really trust our surrogate mother, and I don't want to be the person who controls her every move,` said Kim.
 Kim and Kanye were very lucky with the surrogate mother. `I am extremely grateful for her kindness and dedication. I will definitely keep her name a secret; I do not want people to know about her.` The couple did not disclose the woman's name, but we know that Kardashian and West found her through a special agency. The surrogate mother's fee was around 45 thousand dollars (and another five thousand for each `additional` baby if more than one embryo survives during the IVF).
Psalm West – Kim Kardashian Fourth Child
Psalm West was born on May 9, 2019.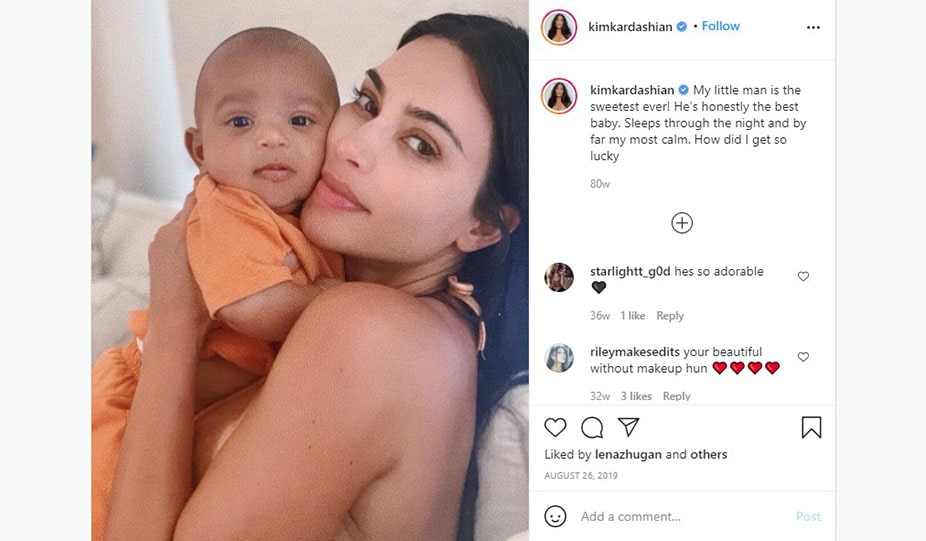 Here is what Kim Kardashian said on her Twitter about her fourth kid `He is here, and he is perfect!` With this message, the TV star immediately informed the subscribers that her son was born.
`He looks like the twin of Chicago (his older sister, who was born a year ago), lol, I'm sure he will change a lot, but now he looks exactly like her,` added Kim.
The newborn baby's weight was approximately 3100 g.
The press began to discuss the likelihood that Kim and Kanye would have a fourth child at the beginning of 2018. On January 2, the US Magazine reported that the stars used a surrogate mother's services, and the child is a boy who had to appear in early May. A week later, Kim Kardashian confirmed that she and Kanye were expecting a fourth baby.
`I liked the surrogacy process. When it came time to breastfeeding, I realized that this was the best decision I made … I can spend much more time with elder children,` Kim said.
Kim and Kanye did not use the same surrogate mother's services, who gave birth to their daughter Chicago last January. But not because they were not happy with her. In fact, the woman, who was in her early 20s, was busy – in December, she had to give birth to her own child. However, the embryo used to give birth to Psalm, Kim's youngest son, is from the same `batch` as Chicago's.
As you can see, thanks to modern reproductive medicine, Kim Kardashian decided not to risk her health anymore and still was able to create a large and happy family.
Kim Kardashian IVF Video
The 39-year-old mother of four has posted the video on IGTV as part of a promo campaign of the underwear brand's new home wear line. In addition to Kim, eight women shared their stories in support of various charitable projects.
In conclusion, Kim emphasized that she is incredibly grateful for her beautiful children, no matter how she got them. `I would go through the same thing twice to stay with my kids. It was worth it,` – summed up one of the most successful entrepreneurs.
Did Kim Kardashian have IVF?
Yes, Kim did several IVF rounds. Her second pregnancy was a result of the IVF program. The third and fourth pregnancies implied IVF and surrogacy.

Did Kim Kardashian do IVF for her last two pregnancies?
Yes, Kim did IVF with her own oocytes. After the retrieval, she has received two healthy embryos and used FET (frozen embryo transfer) with two different surrogate mothers, who gave birth to Chicago and Psalm West.
How many times did Kim Kardashian have IVF attempts?
Kim made two IVF attempts. This first one resulted in her second pregnancy with Saint West in 2015. The first attempt failed, and doctors prohibited her from making IVF due to health issues. 

How many kids does Kim Kardashian have?
Now Kim has four kids. Two girls and two boys. Their names are North, Saint, Chicago, and Psalm West. 

Summing Up
Now Kim and Kanye are raising four children. They built this happy family with the help of modern assisted reproductive techniques, IVF, and surrogacy. If you would like to know more about IVF, don`t hesitate to use free consultancy with our fertility experts, read more IVF success stories, or check our free egg donor database right now. We will gladly help to make your dream come true!